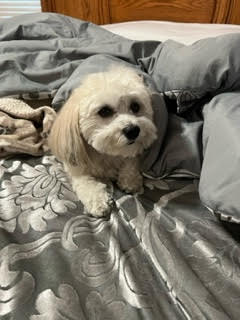 Congratulations to our August 2022 Pet of the Month- Lady Breslin-Clark
"Lady is our precious, seven-year-old Havanese. She was the runt of the litter with dark markings on her face as a puppy, and we couldn't resist.
Lady is full of love and excitement. She thinks everyone around is there to visit her. She twirls in circles of excitement when it is time for her walk or her vet visits and doggy daycare at Tuscawilla Oaks, and even when she rides in the car for a Starbucks coffee.
She loves to be rubbed and snuggled in bed with her human family, and she hasn't a mean streak in her. Lady hates thunderstorms and loves to perch on the sofa in her blanket.
Lady is a special dog, a true family member, and has a very special place in our hearts."