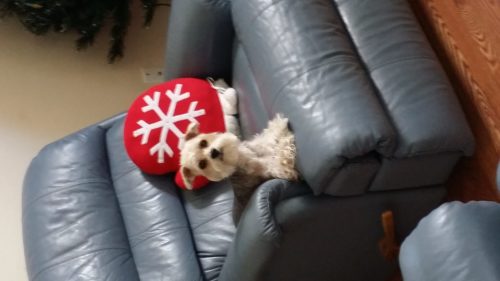 Congratulations to our November 2020 Pet of the Month, Mindy Mihacy!!!
"I fell in love with my sweet Mindy After discovering her at a pet shop in Cape Coral, Florida. I had been longing for another pet after my sweet little Tiki passed away from cancer 2 years earlier. I was looking around at different places, shelters, pet stores, etc when I found Mindy. I saw her in a little glass case playing with her little friend, a red poodle but did not take her home that day. She stayed on my mind so I went back about 3 days later and she was still there I knew she was my little girl and I needed to bring her home. My husband was with me and he fell in love with her immediately. We brought her home when she was 3 months old. She was very energetic and sweet. We truly loved and doted over her. She has been a great comfort and company to me all these years, She bonded even closer to
me after my husband passed away in January 2013. She was born on October 06, 2009. I started to train her and eventually, she became a certified service dog. She understands my routine and everything I say. She is extremely Intelligent.
Her behavior began to change about 8 months ago. I took her to Tuscawilla Oaks Animal Hospital and after many tests, discovered she has Cushing's disease. She was placed on special medications and now after these last few months, her health has greatly improved!!!! She is back to the happy, energetic little girl she was before.
She looks 100% better I am very grateful to Dr. Taylor and the staff and at Tuscawilla Oaks Veterinary Hospital for the excellent care and compassion they showed and continued to show to me and my sweet Mindy. Thank you TOAH for this opportunity to tell my little Mindy's story
"