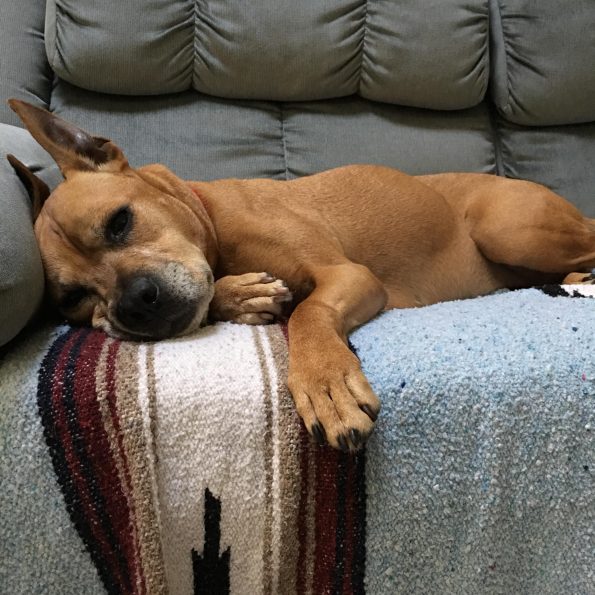 Brownie was first found wandering the campus of Jackson Heights Middle School during after-school hours. Mom and sister were there for a club potluck event and, after seeing her roaming around and finding out that animal services had been called, decided to coax her into the family van. We decided to take her in temporarily while we worked with Pet Rescue by Judy to find her a forever home. In the meantime, through the pet rescue, TOAH spayed Brownie for adoption. But like many a pet love story, we decided to keep her; and so she joined mom, dad, three two-legged sisters, and one four-legged sister of the same age. She came to us in very rough shape – severely underweight, riddled with fleas, covered in deep wounds and gashes – and a little over a decade later, she's now thirteen years old. Despite her "senior" status as a dog, she still has the personality and energy of a puppy!
Brownie absolutely loves food; we know all dogs do, but she really, truly adores food. She particularly loves her special homemade peanut butter dog cookies, watermelon, chicken, her post-bath hamburger patty, and eggs in any form. Brownie loves when she gets her daily snack of a hard-boiled egg, or an occasional poached egg (yes, poached!) when her humans make some for breakfast from time to time.
Her favorite things to do are sunbathing, going on walks, cuddling with her stuffed animal, spreading out and nesting in dirty laundry, and following her humans around the house. Brownie's trademark features are her adorably large, upright ears, little potbelly (due to a floating rib cage), and big chocolate-brown eyes.
Just recently, we found out that Brownie has a very rare cartilage mass that had grown to a size and in a location that was obstructing her airway. Therefore, in her case, it caused sudden and extreme breathing difficulties. Due to its inoperable location and unsuccessful attempts to identify the mass before it continues growing, Brownie underwent a permanent tracheostomy to first and foremost allow her to breathe again and be able to leave 24-hr hospital care. Brownie will be spending the remainder of her life living comfortably at home with her family. Though she is still in recovery from the procedure, she is doing very well and has regained her energy and spirits to her normal food loving, trotting, and cuddly self. We don't know how much time she has left, but we are very grateful that she made it through the roughest patch in her life and that she is enjoying what time she does have with her family.
Brownie has been through a tremendous amount this past month, so we'd like to say a big thank you to TOAH for selecting Brownie as June 2018 Pet of the Month. Thank you so much for helping us get Brownie the emergency care she needed. Brownie made it through everything so far because of the amazing care of Dr. McPherson-Hurt, the TOAH staff, and the doctors at AVS.