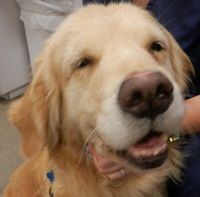 Congratulations to our May 2018 Pet of the Month.
Read her bio below:)
"Morgan is a registered therapy dog. She always shares her toys with her friend Emma. She says thank you when we give her food. When she digs a hole in the backyard she rinses her paws in the pool before coming in the house.
Morgan came to us at age 6 as a retired mom from Magik Golden Retrievers in Sorrento, Florida. She had 3 litters and was a very good mom to her puppies."