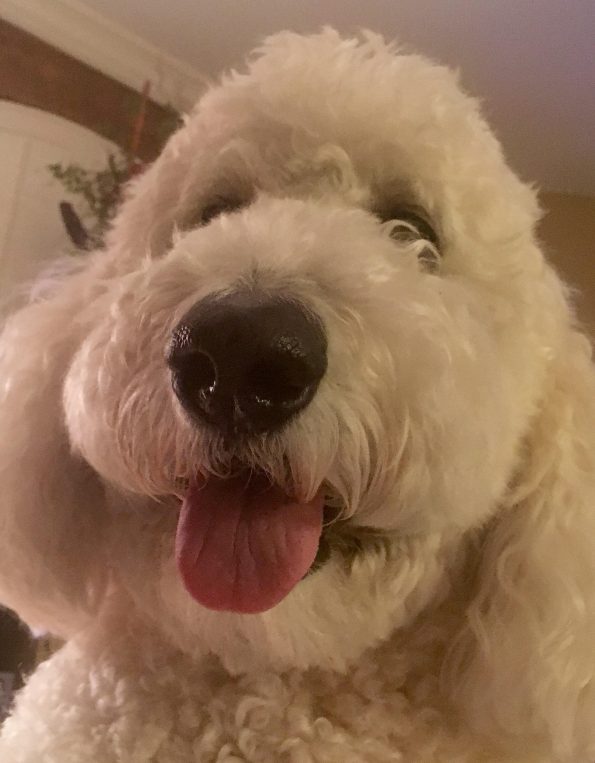 Buster came to us as an energetic 2-year-old, with some trepidation, having left the only family he had ever known (due to family/medical reasons). For us, it was "Love at First Sight." Fortunately, it didn't take him long to settle in and became a beloved and loyal member of our family. He is a 95 lb. lap dog with a BIG personality. He follows Mom around all day, plays with the kids all evening, and is up at the crack of dawn with Daddy for his early-morning belly rubs. Buster loves his family.
His favorite pastimes include: sitting on our laps to be petted, standing on our feet to be petted, lying on our beds to be petted, sitting on the sofa to be petted, and going for car rides. He also loves his morning social hour when he sings, in unison, with all of the next-door neighbor-dogs.With no roosters in the neighborhood, they assume the responsibility of ensuring that everyone is awake and on time. We consider it community service.
Buster is a skilled ninja-like counter surfer, who waits until the perfect opportunity to strike. He has stolen donuts, hamburgers, bread, cookies, and more; and like most of our 4-legged friends, he is meticulous when it comes to cleaning crumbs and morsels from the floor.
He is very attentive to the front door, letting us know, in his own thunderous and loquacious manner, that we have visitors calling, parcels being delivered, or neighbors strolling by. His protective nature cannot be overstated, as he fearlessly chases away all killer squirrels that dare to climb his pool screen!
Whether it's a week, or a short trip to the mailbox, Buster is waiting at the door to greet us, with a smile, a nudge,and a wagging tail. He is the best source of joy and entertainment a family could ask for.