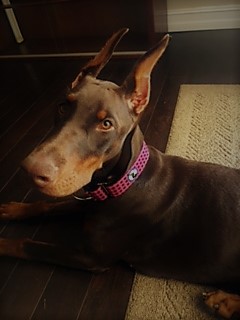 Thank you for choosing Nova as pet of the month, TOAH! Our family is so humbled that our pretty girl is being featured!
We brought Nova into our family June 2016 shortly after losing our beloved Rottweiler Izzy in late April. Nova is a purebred Doberman Pinscher who comes from champion bloodlines and a family of show dogs. She was one of a litter of seven pups, and we chose her because she was so spunky and full of personality when we met her. Nova had big shoes to fill following our loss, and she's far exceeded our expectations.
Nova's best quality (aside from her beauty!) is her intelligence. It takes her about five minutes to learn virtually any trick, and she even completed a two-week training boot camp where she learned to focus her high-energy nature into positive behaviors instead of naughty ones.
Nova is a social butterfly. She makes tons of friends – human, dog, or cat! – wherever she goes. Nova's daycare attendants absolutely love her and she loves spending time with them and all of her puppy pals. When she goes out with us, she's insistent upon greeting everybody and every animal with lots of love and kisses. She even loves going to the vet and is especially partial to Dr. Fullenwider and Devon (probably because they spoil her rotten!)
Nova is the world's biggest cuddle bug and we even refer to her as our little 'Velcro Dog' because she totally adores our family and prefers to be in contact with somebody at all times. Her heart is full of love, and our home is, too, because of her!