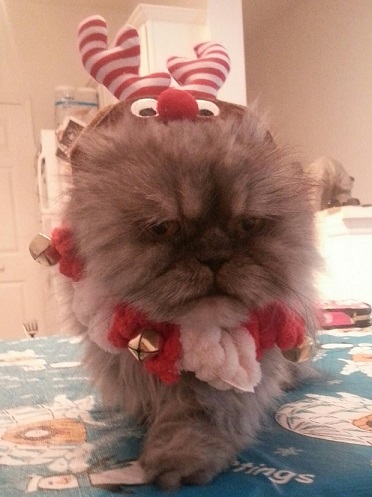 I adopted Jezabel (Jez) about 8 and a half years ago in Pittsburgh PA.  She was 3 at the time and her owner had passed away and the family did not want her and put her up for adoption.  I saw her picture on the website and knew that she was the cat for me.  I drove over an hour to the shelter she was at and it was love at first sight.  I brought her home to my apartment where we lived for a couple months then I purchased my first home and we moved.  We lived there for six years before moving to Orlando.  My neighbor says he misses seeing her sit in the window watching the birds.
Two years ago we did the drive down to Orlando which she was so not a fan of!!  We finally made it and stayed with my parents for a couple months while I found an apartment.  They have two cats and that is when I realized that Jez is definitely a one cat household type of cat.  She was definitely the alpha in that situation perched on my mother's chair like the queen that she is.
Just recently Jez had some medical issues well medical is a relative term.  She decided one day to stop eating so I brought her to TOAH and Dr. Taylor did some blood work to see what was going on.  My sister was here at the time so we thought it was behavioral but the situation was not getting better.  Her blood work came back normal but she still wasn't eating.  At this time we did X-rays looking for obstructions and other possible issues, nothing showed up.  I talked about options with Dr. Taylor and I opted to do a feeding tube.  Jez had this feeding tube for six weeks, where we became a frequent flier at TOAH and the staff was amazing!  I had to board her a few times and all the Vet Techs took great care of her and loved and doted on her.  I decided to do a few more tests just to rule out everything medical, everything came back good which made me happy but frustrated at the same time.  Two weeks ago we had to take the tube out due to circumstances and I didn't know how it was going to go.  I am so happy to report that Jez is now eating on her own!!  She has been consistently eating and has gained 4 oz since I brought her home two weeks ago.
I would like to thank everyone at TOAH that was there for me throughout this tough time.
Thank you to Dr. Taylor, Kyle, Tina, Kaleigh, Kerry, Lauren, Angel, Andrew and anyone else that helped with Jez that I never met!!
I'm happy to be a part of the TOAH family and I know Jez is too!
Dawn