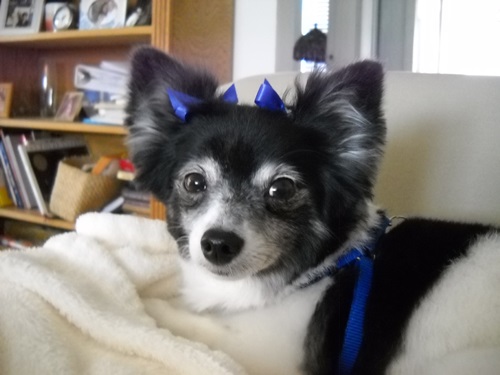 Jilly
Came into my life in 11 years ago when a good friend gave her up as a one-year old because she was a "one person" dog and didn't get along with their other two dogs. My friend and her husband were the love of Jilly's life, along with their other Chihuahua, Diesel. But they decided on 3rd chi and Jill was the one who didn't get along with the others…so they asked if I would be interested in taking her.
I never saw a long hair Chihuahua but she was a keeper. Jill was dropped at my place by her owners, who were great people. In the period of one year from her birth she was taken away from her siblings and mom and then away from her new family and best friend Diesel.
The first 2 weeks she came to me she laid at the front door waiting for her family to come pick her up and gradually she decided we could do a lot together. After one week with Jilly, she developed pancreatic. I had not established Jilly with a vet but she was so sick I took her to the emergency room. She was a tiny little 5.5 lbs. and almost completely limp. The emergency vet kept her overnight and in the morning he gave her back and said he didn't know what was wrong with her.
I frantically started driving down the road looking for a vet and not knowing anything about little dogs. I found TOAH and took her inside. Dr. McPherson came out to see what was happening and after explaining she asked if I had any blood work. Dr. McPherson took a quick look and said, "she has pancreatis." She decided to keep her overnight with plenty of fluids and I left my tiny, limp little pup with yet another stranger. I came back the next morning and my pup was like new. It was a miracle!
Since that time Jill and I have become friends with everyone at TOAH and because of them she has stayed healthy.
Jill and I love to take long walks and now that she is 11, she more enjoys the stroller type walks. Her best friends are Oscar the dachshund and Dodge the Yorkie. Her favorite toy is OWL and her favorite blanket is a green throw..that she claimed last Christmas. Jill still has some health issues but she is truly my best friend. So happy to have the folks at TOAH for guidance. Dr. McPherson was our angel when it seemed like no one else could help.