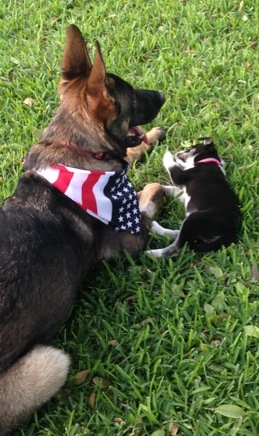 Zeus – my husband wanted a German Shepherd puppy for Christmas, so that is how we came upon Zeus in November of 2014.  We found him on Craig's List and the owner said she needed to get rid of all her puppies at 5 weeks because she needed money, so we have raised Zeus since he was 5 weeks old.  We put him in PetsMart puppy training and had a K-9 trainer come to the house.  We knew if we had a "big boy" that he needed to be well-behaved and manageable.  Zeus is such a good boy and we actually get compliments when he is in the public about how good he behaves.  His favorite toy is the Frisbee, which we throw for him every day and he loves going to the dog park. 
 Unfortunately our other two small dogs passed away recently, just one day apart from each other.  We were heart broken and Zeus was very sad, mopey and had lost weight.  He wanted a new play mate.
So, then Zoe comes in the picture.  My husband and I wanted another dog and we thought Zeus needed another playmate (besides our three cats).  We didn't have any idea what type of dog we wanted or when.  A friend of a friend said someone was getting rid of a small puppy because her kids were too rough with it and it was just too much.  So we go to meet her (with Zeus) and immediately fall in love.  She is very small (only 5 pounds) but she is part Siberian Husky and part Boston Terrier and should come to weigh about 20-30 pounds.  We brought her home and she and Zeus play well together.  We have to watch Zeus because he is so big, but he is a gentle giant.  I am sure when Zoe gets full grown, they will have hours and hours of fun playing together and Zeus is back to his old happy self.  I am not sure who will rule the house yet, as Zoe certainly has her own little bossy personality.
A special thanks to Tuscawilla Oaks AH as they make our life easier with our cats and dogs.  We don't know what we would do without them, their care and concern.