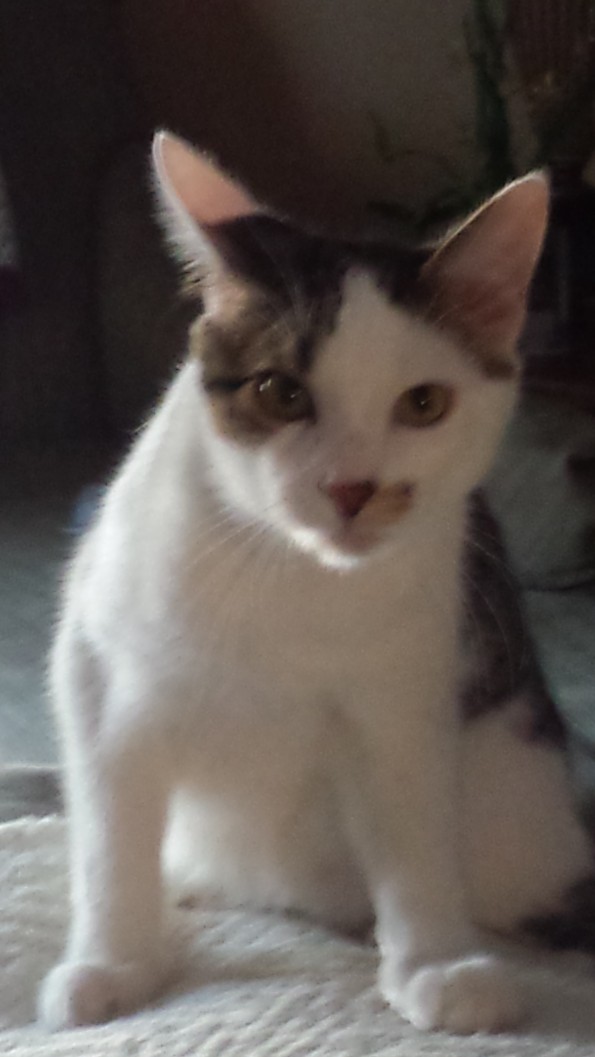 Jack is thrilled to be picked Pet of the Month for May, and he and his Mom and Dad are thrilled too! 
We adopted Jack from the Cat Rescue at PetSmart during the 4th of July weekend 2014.  The cats were all discounted 50% for a 4th of July special  J.  Jack was in a cage with his 4 sisters (the only boy in the litter), and they were about 2 ½ months old.  We held many kittens that day, and as most kittens do, they put out their claws to hang on because they are nervous.  When we held Jack, he was just a cuddly kitten who loved to be held like a baby and he never put his claws out.  We brought this little boy home, and he hid in a corner of our spare room, behind a box, for about half a day – then the house was his.  He grew almost overnight.  He was such a little kitty, but he grew into a big cat so fast.  He's a crazy boy – always on the go, and he thinks everything in the house is his toy.  He likes to taunt Soccer, our 12 year-old Chihuahua/Pekinese mix, and is always chasing him.  Soccer was scared and annoyed at first, but has learned to accept Jack.

Jack started acting sick on April 2nd.  He had no energy and wasn't eating or drinking anythings as far as we could tell.  On April 6th, we took Jack in to see Dr. Janis Fullenwider, and by Wednesday, April 8th he was having surgery to remove a penny that he had swallowed.  A penny!  Not only was the penny causing an obstruction, he had started to digest it (there were two holes in it when it was removed), and the Zinc in the penny was making him sick.  So after feeding him food and water with a syringe for about a week and half after surgery, and giving him appetite pills and "poop" pills, he is all better now.  Thanks so much to Dr. Janis, and thank you for selecting Jack as the Pet of the Month!
  Shirley and Anthony Cemoni