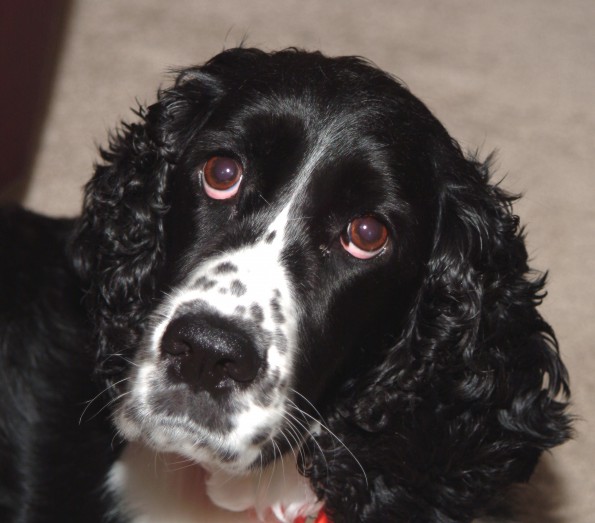 TRIXIE BOLTON 
Don't be fooled by the name and the sweet face. Trixie is an English Springer Spaniel("ESS") who is passionate and ferocious about hunting birds with her owners. Quail, chukar, grouse, pheasant – you name it: Trixie will smell 'em, flush 'em, go get 'em when her owners shoot 'em, and will retrieve 'em back to her owners, even if the birds fall into water.  All harvested birds she retrieves end up in her owners' freezer and ultimately on their table.  Trixie, at 11 (human) years old, continues to hunt and, when she's not hunting, she is keeping her people healthy by walking/running with them in the neighborhood at 5:30 each morning. The rest of her time is spent lounging on the couch, playing with her pack mate Badger, and cuddling and playing with her people.  
Over eleven years ago, a friend of Trixie's owners told them that her ESS was going to have pups and asked if they wanted one.  Never having an ESS before, they did some research and decided that this was the breed for them. They got their first picture of the litter when the pups were just hours old. Weeks later, Trixie's people-to-be (including two children) picked her out of the litter. As far as they are concerned, they got the pick of the litter. Trixie was named valedictorian when she "graduated" from puppy obedience training!   
Her people noticed that Trixie loved to hunt rabbits in their yard and seemed to have a keen nose.  That observation opened a new door of adventure and fun for the family. As Trixie went through three months of training to hunt birds, her people were getting their own training to be safe and accurate bird hunters. Trixie and her people have hunted in Nebraska, Iowa, South Dakota, Kentucky, South Carolina, Georgia, and Florida.  Trixie's nose always finds the bird! 
Happy Hunting, Trixie!!!!!!!