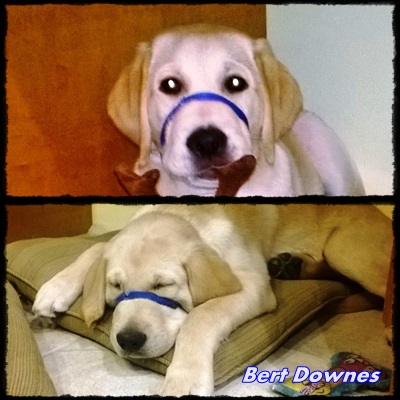 Hi, my name is Bert. I am a golden/lab mix and just turned 5 months old. I love kisses, belly rubs and romps in the back yard with a ball or a frisbee.
When I'm not playing and loving on my family, I am training to become a Canine Companion for Independence. My trainer/mom is teaching me things so that when I grow up, I'll be able to help someone with special needs, do things such as; picking up items for someone confined to a wheelchair, opening cabinets and drawers, turning on/off light switches, and companionship for someone who is lonely or scared.
Mom tells me not to worry or get frustrated when I cannot remember everything she teaches me. We work hard together every day and when it is time to move on, I will be ready and know all the commands I will need to know.
I will stay with my training family for 18 months and then I will continue on for 6 months to 1 year of advanced training. Isn't it exciting to imagine who I may be able to help one day? Could it be an Autistic boy, or a girl with Down syndrome? A veteran who has lost an arm or a leg? What about an elderly woman who needs a wheelchair to get around? Could it be someone with cerebral palsy?
I know it all means a lot of hard work in the years ahead, but it is definitely worth it, because someone out there needs ME!