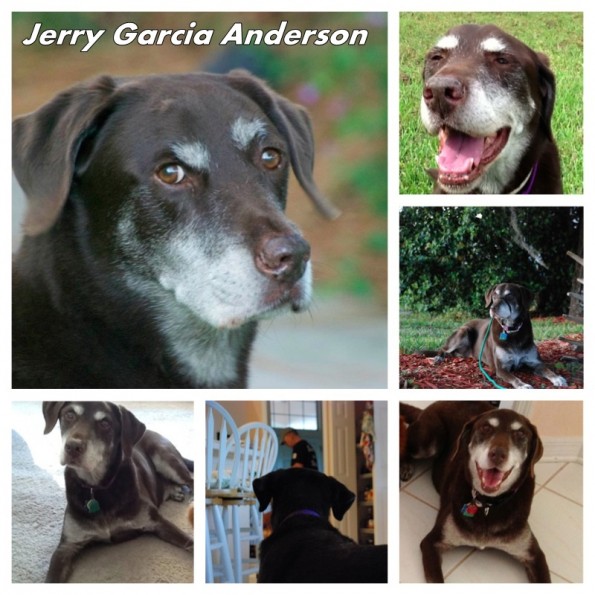 My mom and dad are so proud of me because I got picked to be the Pet of the Month at TOAH! She thinks I'm pretty special and is so glad that she can brag about me! My name is Jerry Garcia. I got that name because when I was rescued, I was wearing a Grateful Dead collar. I waswandering the busy streets day after day and someone picked me up and took me to a rescue group because they were worried about me. Mom says, I would have been "road kill" if the nice person had not stopped to help me. I had such a great personality and liked people so much, it was not hard to coax me into the car and let me go for a ride.
I was around 8 years old when I was rescued. People who met me said that I was a really nice dog, and hoped I would find a good home. My dad saw me one day while he was helping out the rescue group and when he came home, he asked mom if we could foster me so at least I wouldn't have to stay in a kennel while waiting to be adopted. My mom went to see me and it was love at first sight. She took me home and I have lived with them ever since.
Sometimes I still worry that I may not get any food, because when I wandered the streets I was always looking for something to eat. My mom knows how really into food I am, so she bought me some really cool food puzzles and lets me use my smell and sniff skills to find my food. It makes eating so much fun too and it's way better than eating the junk that I use to eat when I roamed the busy streets.
I am very lucky boy, because my family loves me very much. They take me for long walks two times a day, they play with me, they let me chase balls, have treats and lots, lots more. I have been to many dog-training classes too, but my favorite class was the "scent class" where I learned to find things using my great sense of smell. I'm a really good tracker with my nose and needles to say, I loovvveee to smell every blade of grass two times when I go for my daily walk too. Life could not be better for me.
Mom and dad say that I'm starting to show some signs of age and they really baby me now. I hurt myself roughhousing and now I have to be careful when I jump down from a car, couch or bed. But mom and dad are there for me to help me so that I don't hurt myself again. I love my family; they have been so good to me and I try my very best to be a good boy for them because they are always so good to me. Mommy calls me "her baby" and I like that very much. My dad says that I'm a funny fellow because he thinks I'm silly. I hope I live to be 100 dog years' old!