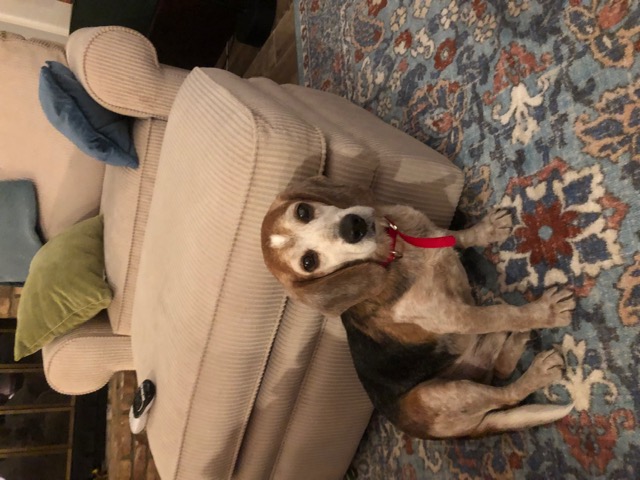 Congratulations to our January 2021 Pet of the Month, Flynn Berkheimer!!!! Read his bio below!!
"Flynn came into my life in March 2018. I had just lost my dear little Artie that January. I usually wait a while before starting a search for a new best friend, but, Artie and my sister's dog, Winnie, were very close and we were all feeling the loss. I also feared that if I waited too long Winnie would deem herself "controller of the house" and would be reluctant to share "her" house with a new pet (Chihuahuas can be that way). So, I set out looking for a beagle with the same attributes as Artie (older with a sweet disposition and the patience of a saint!)
In comes Flynn (aka, DooD). I don't know much about his past, other than he was picked up as a stray somewhere in the panhandle area and landed himself in a shelter. With hurricanes approaching, the shelter put out an urgent call to rescue groups across Florida in an attempt to clear the shelter prior to the storms because new pets would certainly show up. A rescue group out of Tampa took him in and had him for almost a year. I saw him on Petfinder and immediately fell in love with his dear sweet face. After clearing the approval process, my sister and I went to pick him up in Tampa! He drooled (and I do mean drooled) for the 2.5-hour ride home! I knew he was heartworm positive, but they said he had only one more treatment before he could be re-checked.
Once home, he slept while Winnie cautiously checked him out. We were pleased that she didn't register any animosity toward him – Yay! He doesn't play with toys (can't be bothered); but he likes to be chased and can run like the wind – I think he thinks he's a greyhound! On his second day in the house, Winnie put her paw and his, and from that point on they have been inseparable.
The next day Dr. Fullenwider, the dear soul that she is, checked him out. Turns out, the heartworm treatment they used wasn't successful, so we had to put him through more treatments. Once complete, he was finally pronounced heartworm-free. We then had to tackle his bum eye. The eye doctor said he had a very pronounced cataract that needed to be addressed.
Now he is a happy, healthy member of our family! He is everything I was looking for and more. Thanks to Dr. Fullenwider and everyone at TOAH.
If you've ever thought about adopting an older dog – do it!"