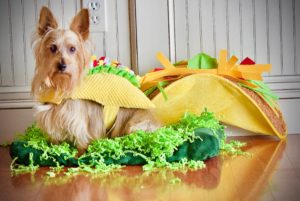 Congratulations to our August 2020 Pet of the Month; Riley Brown!
"Riley's Story
After our beloved dog Scruffy passed away in 2015, we felt we had room to help another rescue dog. All of our dogs have been rescues. We still had two other rescues at home, Bailey and Maggie (each with their own story) and they were both getting up in years. Bailey seemed lost without his buddy Scruffy, so we felt an addition, would be good for him and us.
We have worked with the Silky Breed rescue for the 20 years, so we decide to see if they had any available for adoption on their website. Riley had just been posted as an owner surrender, so we contacted the rescue and started making plans to go get him in Castle Rock, Colorado. We bought an RV so that we could take the other 2 dogs and pick him up. We headed out in November. It was very cold when we arrived at his house to pick him up. When I went into the house, I didn't see him initially but soon I heard him and looked down and said, "you must be Riley!" I picked him up and held him the whole time we talked, Riley didn't leave my lap the whole trip home, and is still never to far from his mom! He loves his Grandma too and always announces himself before going in her house.
Attached below are some photos of Riley. I've also attached the link below to the flyer from the Breed Rescue site we saw, and decided he needed to be with us.
http://www.members.tripod.com/~silkyrescue/riley2015.htm