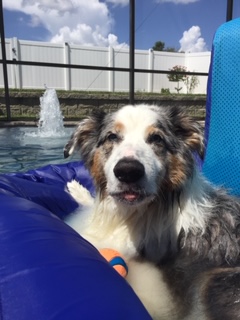 Congratulations to our March 2020 Pet of the Month!!!! Bandit Dwyer!!!
Read his bio below:)
"Born to the humblest of beginnings, on a working farm in Old Town, Maine, Bandit came into our lives by surprise in August of 2005 and it has been the absolute best decision we ever made. I was looking for a Maine Coon Cat in a
swap and sell magazine called Uncle Henry's when I came upon the ad. He was the only male, Blue Merle with blue eyes (which is what I always wanted) out of 11 pups and he happened to be available. I called the farm he was on and she told me someone else was on the way but it was first come first serve. I hung up and grabbed the keys, my husband asked where we were going, I said "I will tell you on the way"… his only reply was " Do I need money?" and the rest is history. We bonded with Bandit instantly and fell in love from the start, he was
exactly what my soul needed in that moment. Born all Aussie, Bandit spent his first few years chasing frisbees and herding his K9 siblings, his arch nemesis…the cat, and his humans, especially his favorite little human, our nephew Rick.
He has always been able to accompany us to work and he took his job of warning us that the UPS driver was near, very seriously. He later became the inspiration for and the face of our pet business, building up a fan club from
around the world. His love of travel has earned him many stories of adventure, navigating the
roads beside his Dad in the passenger seat of an RV. On one such adventure, his Golden Retriever sister Kiwi taught him to swim while on vacation in Florida and that was the day we realized he was half fish. Bandit has always had a lively wanderlust and has never said no to going somewhere new—especially a beach,
lake, or ocean. His swimming skills are second to none, and even as his running has become a little less graceful and swift in his older years he still glides through the water with the grace of a swan. He loves to take a morning dip, swimming laps around his pool just because he can. He swims EVERY. SINGLE. DAY. It's
his passion and I believe is what has kept him mobile as he has aged.
Bandit has many talents, including the sweetest nibble kisses, stealing the hearts of all the ladies he meets, total pillow domination, and the art of morphing to the exact dimensions of a king-sized bed leaving us balancing on the edges. He is so connected with us that we can communicate with the look of an eye or the nod of a head. He's smarter than any dog I've ever known, however he has never learned a "dog" trick as I think he felt it was beneath him. I think he truly believes he is one of us.
Bandit takes seriously his call to protect and serve. He never lets a doorbell ring without his direct intervention, always warns the neighborhood when the winds are high, and restricts the pesky squirrels to a designated tree line.
Bandit loves deeply, snores loudly, and always lets you know exactly what he is thinking. His affection for his people is intense and our love for him is unmatched.
Eventually Bandit (and our) old bones started to hurt in the winter cold of Maine so we relocated to Central Florida and to him it was the best move ever as he can swim year round. He is living out his retirement years in K9 bliss loved and spoiled by all that know him.
As Bandit approached his 14th birthday he started to show pretty sudden and severe signs of arthritis. We tried every treatment from supplements to pharmaceuticals to acupuncture, laser and massage. When I had all but lost
hope thinking it was time to make the agonizing decision to end our boy's suffering I stumbled upon the amazing team at Tuscawilla Oaks and the incredible stem cell treatments that they offer. The stars aligned and we were
able to get Bandit in immediately for a consult and on September 11 he had his first treatment. I cannot express the gratitude I have for Dr Fullenwider and her team. They have given us the gift of more time with our little guy. In the fall we were able to celebrate the procedures success by having a "100 in human years" birthday party for Bandit. Neighbors, family and friends joined in as he made a grand entrance by running out to everyone assembled by the pool to "Who Let The Dogs Out" playing on the stereo. He jumped around, swam and showed off for the crowd. Everyone was amazed that the dog, who months before needed help to lift himself off the floor was in such good health and spirits. We do not have children and Bandit is my baby so I cannot thank the staff enough for
caring for him the way that they have. Their level of kindness and compassion for Bandit and for myself was above and beyond.
Bandit loves life, like truly loves life… He loves his family, his sharky toys and of course swimming. He loves naps, chin scratches, playing catch with his Dad and dance parties with his Mom. He loves lobster, steak, cheeseburgers, and especially the Twistee Treat ice creams that his Uncle Rick gets him. We are currently planning Bandit's 15th or 105 in human years birthday party for June and are so thankful that we have the opportunity."