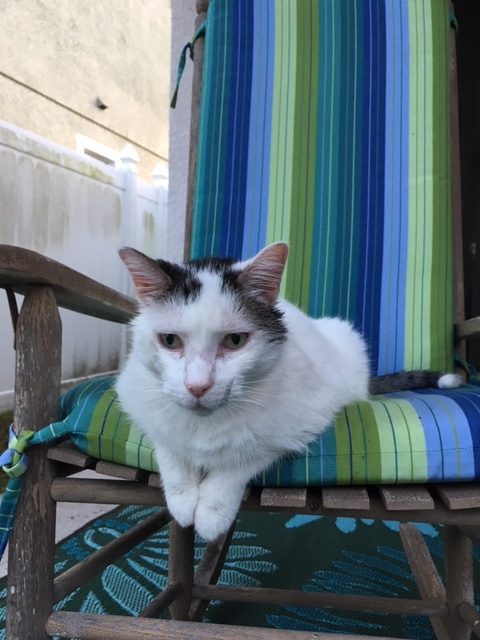 Congratulations to our November 2019 Pet of the Month, Max McBride!!! Read his Bio below!!
"One evening in August of 2008, I was walking my three dogs near the entrance to my neighborhood. Suddenly, my Doberman-mix, Roscoe, rushed over to some bushes along our path. I went to see what he was so curious about and found this tiny kitten. The kitten was so small he fit in the palm of my hand. Even though his eyes were still partially closed, he put up a fight when Roscoe got a little too close. It seemed he was abandoned, so home he went with me and my three dogs.
The next day I took him to TOAH, which is where my dogs had been going for years. After some tests, they found he was a sick little fellow. He was sent home with several medications and not a lot of hope in recovery. It was a tough couple of months because we were not sure he was going to make it. But, with the love and support of the TOAH team, and a neighbor of mine that is a nurse, Max recovered! I felt really blessed that he was given a chance at life. With much wonder, I watched as he grew into a beautiful young cat. Max considered me, my son and the three dogs, his family. When he was almost two, he became sick again. This time he was diagnosed with diabetes. He has been dealing with this for nine years now.
A couple of years ago I adopted another stray to give Max company (our three dogs had all passed away and I knew he missed them). To my amazement, Stella (the new stray) began to teach Max how to be more like a cat. I will never forget the first time he came into the living room with a toy mouse in his mouth, as if he had caught it. He proclaimed for awhile how proud of himself he was. Stella has since taught him even more kitty things.
Max loves to be rubbed on his head and back (especially in the early morning hours). He is very good at chasing and catching lizards and bringing them in the house. He does seem confused about me trying to catch them and put them back out though.
Max is such a blessing and so loved by us all. With all that he has been through, I can't help but admire how he keeps thriving and being a very loving cat. When I need encouragement and inspiration, I think of Max. He truly is amazing. Thank you TOAH for choosing Max as pet of the month!"