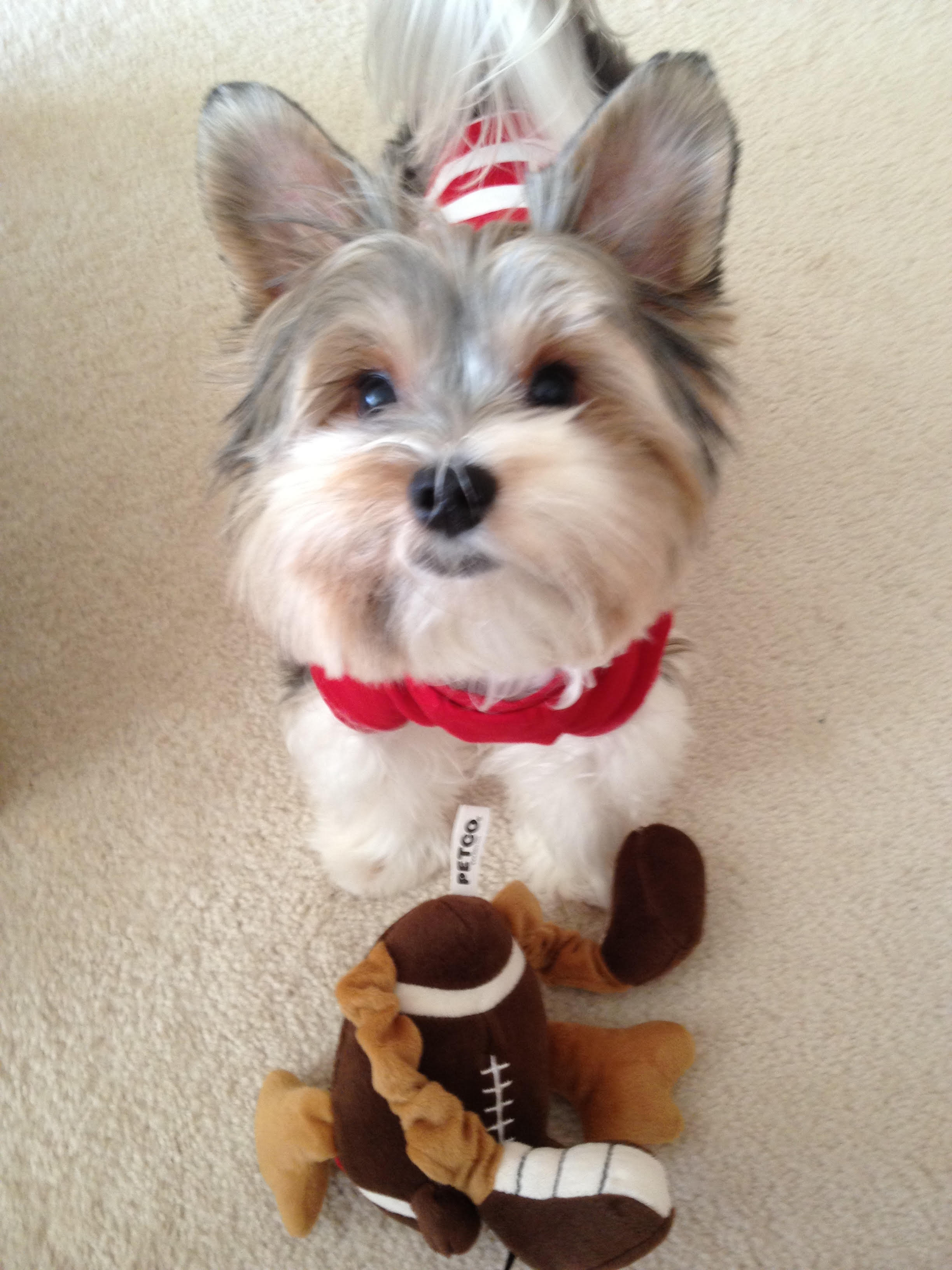 Congratulations to our January 2019, Pet of the Month. Prince Kinley Martinez. Read his bio below…..
"My little Prince Kinley is a Biewer (pronounced bee-vair) Yorkie. I often get many questions about Prince because his breed is not as common as the regular Yorkie breed. The Biewer Yorkie originated in Hunsruck, Germany in 1984. A couple named Mr. & Mrs. Biewer developed the first Biewer through a gene mutation in their own yorkies. This gene is also known as a recessive pie bald gene.
My journey to Prince Kinley began after my little Princess crossed the Rainbow Bridge. I was missing Princess very much and the unconditional love and laughter she brought to my life. Four months after losing her, I realized it was time for a new fur baby. I found Prince's breeder online and made an appointment to see all the puppies she had available. She had about four playpens filled with four different litters of cute and sweet puppies. I entered her house and saw one big puppy in the first playpen. I passed that play pen, then the second, third and fourth. Just then, in the first play pen, I noticed a second little head pop up and I realized that the "big puppy" I saw was not a big puppy at all but was actually two puppies. Prince was hiding under his sister.
I was so excited to meet Prince and to see if he was the one. The breeder informed me that his name was "Kinley" and he was available. She took him out of the playpen and I sat with him for about one hour. He was tiny, cuddly and sweet. He was extremely nervous and timid when I first held him but we immediately connected. After sitting with him for a some time he began feeling safe and snuggled in my arms and was trying to lick my face. I was convinced that he was the one.
"Kinley" came home two weeks after the first time I met him, and I immediately changed his name to Prince because he looked like a little Prince when he sits. We kept the name "Kinley" as well. He is the joy and little sunshine of our home and lives.
Princes' favorite thing to do is play fetch, and eat….. a lot! Everyday in the early evening he goes to his toy box grabs his favorite toy (a squeaky ball) and brings it to me so that we can play fetch. He runs for it and brings it back to me, then puts it in my hand so I can throw it again and again until he is tired.
He barks non-stop to let everyone know when he is hungry or even if you just ask him if he is hungry. His favorite treat is pumpkin, carrots, strawberries, coconut snacks and Answers goat milk cheese. You can tell who runs our home!
Around 8 pm he is ready for sleep and climbs his stairs to my bed then scratches at the blanket until he finds his comfortable spot.
Prince loves to snuggle when I am in bed sleeping or if my mom or I are just sitting on the couch. He is our fur baby, very loving and very loyal to us."