Hi there!!!
My name is Omi. I live here at TOAH! I was an orphan and had nowhere to go. Luckily, TOAH brought me in and made me a part of the team! Actually, I run the place now. I am a very vocal, friendly and social cat. I enjoy chasing lizards (through the window), scratching up Dr. Fullenwider's chair and playfully tormenting my housemate Micah. Ask to see me the next time you are here and I may come out and say hello!! (Photo 1)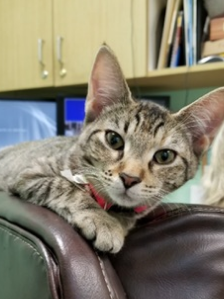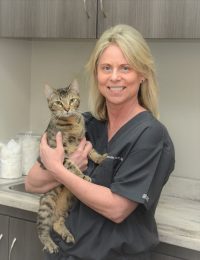 I'm Micah. I came to live at TOAH as a baby. Some very nice people brought me here because I was hurt very badly. Dr. McPherson and the other vets began treatment on me right away and I felt so much better. My back leg took a very long time to heal and for awhile we thought I might lose my leg. But thanks to laser therapy and the awesome docs, I healed up very nicely. Now, you would never know I had a problem with my leg. I am a quiet observer, unlike my housemate Omi, but I like to visit with other TOAH pets and look out the window from my favorite cat tree. See you soon!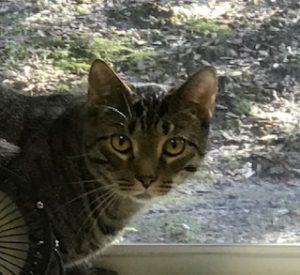 My name is Wednesday. I am a refined, older lady who is very special. I was very ill a year or so ago, and it wasn't clear if would ever recover. Lucky, I found the TOAH team who got me all taken care of and since that time, I decided to move in! I enjoy sleeping in boxes around the hospital, on computer screens and refrigerators. My favorite hobby is taunting all of the dogs (hehehe). I am doing very well and enjoying my senior years in luxury!