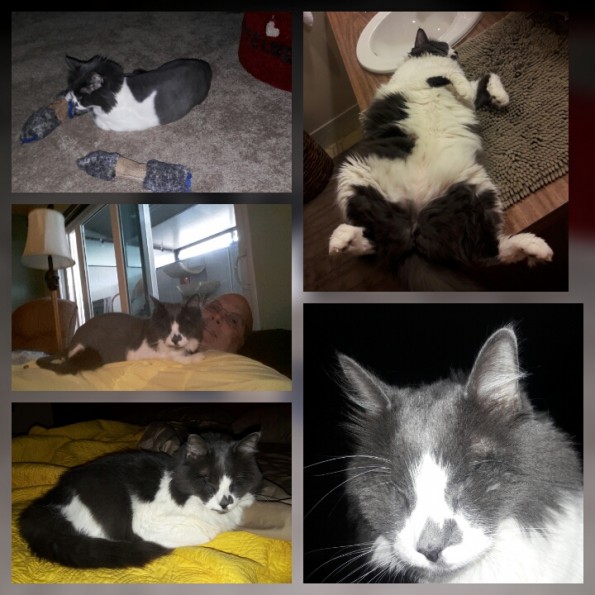 When we received the "Pet of the Month" email nominating our Kobe, my husband and I were tickled pink! Let me start out by saying that we met Kobe, we already had a cat and were not in the market for another "child".
At the time we met, I was in the beverage route business, delivering to restaurants and one day I walked into a Kobe Steakhouse there were 2 kitties that hung out in the back of the restaurant. One of them was Kobe. This restaurant was his hangout. (hence the name.) He always wanted some love, and food, but, of course, only on his terms.
After a few visits, I inquired about Kobe and a person who work at the restaurant said they had taken him home. However, he did not get along with her other cat, so it wasn't going to work out. I asked if I could have him and our story begins…….
I called my husband to help as the "Kobe transporter" since I had to continue to work. We contacted our favorite vet, TOAH, and told them to be prepared. Kobe was on his way.
When Kobe arrived at his new home he did not get along with our other kitty at first, but we made it work! He has been a joy ever since. Kobe's life has been filled with adventure.
Kobe went to have his teeth cleaned a few years ago and while he was under anesthesia, Dr. McPherson found a lump on his chest that had to be removed and, thank goodness, it was benign.
Next, our sweet kitty surprised us by peeing on the stove. Yep, that's right, the stove! The next day he peed on his dad's wallet. Not using the litter box is very unusual in our home. So, we knew something was very wrong. Therefore, we packed him up and off we went to see Dr. Fullenwider!
I don't know how she did it, but somehow, she discovered that he had (of all things) glaucoma.
Dr. Fullenwider suggested a veterinarian ophthalmologist. My husband and I arrive at the specialist, and this man looks like he just got out of high school. We thought, what could he possibly know? But, again, Dr. Fullenwider was right! Glaucoma.
We tried saving Kobe's eyes with multitudes of eye drops over the years. We were able to save one eye for about 6 months longer than the other, however, ultimately, he had to have both eyes removed and we were devastated.
We went to visit a blind cat rescue in North Carolina so that we could educate ourselves and provide a safe home for him. It was an amazing experience!
Now, years later he can manipulate the house, chase his brothers, and play as if he could see. Kobe has been both a lesson, and a pleasure.
Fast forward to today, Kobe is approximately 12 years old, and he is daddy's spoiled "Velcro" cat, and is gracefully taking us with him on his aging process. He has a slight thyroid issue but is doing well on his current medication. We are extremely grateful for TOAH and all the staff because, I call them often! (Two cats more…later!)
Thank you for nominating our Kobe cat for June's pet of the month! We are blessed!