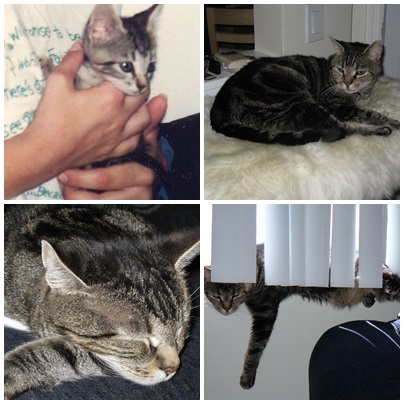 Date of Birth: 09/5/95
Date of Passing: 09/13/13
Friday, September 13,2013
Today is a sad day for me; a sad day indeed.
My Henry went to the vet for the last time today. He made it to 18 but that was all he had in him. And I am grateful for those 18 years.
In October, 1995, my ex-husband and I visited our first exotic animal sanctuary. At the end of the tour we stopped to chat with the volunteers. There were many, many cats loitering about looking for food, love, and attention. The lady asked if we wanted a kitty and we laughed and said no thank you; we live in a tiny apartment that does not allow pets–and we had 9 ferrets already!
She laughed, yes; we had our hands full already. She took out a box (yes a box) of milk to give the kitties a treat. Dozens came from all over!
One little kitty came out last, hesitant, hungry, scared. He tried to get some milk but the big cats hissed and spit at him and he backed away, scared to death. Jim looked at me, saw the tears welling up in my eyes, signed, and said "We'll take that one." So the tiny kitty with the great big ears came home with me and on that sunny October afternoon, he became my boy and I became his forever human.
So today little Jack became the man of the house at only 6 months old.
There is so much more to tell..too much. He was a good and faithful pet; always by my side when he knew I was sad. So patient with the 35 (or more!) kittens I have rescued over the years. But always, always, the king of the house. I will always look for him in "his" spot, on the back of the love seat where he would sit, soaking in the sun.
Good bye, my Henry, I will never forget you.