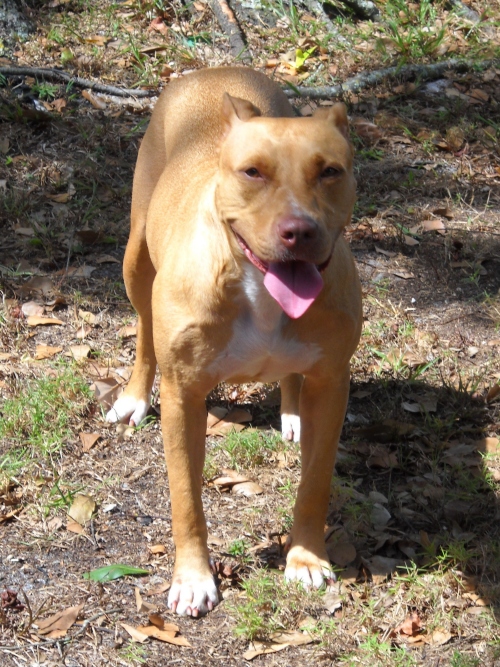 Congratulations to our January 2023 Pet of the Month, Debbs Warfield!
Debbs is a Pit Bull / Mix, probably born in July 2014, according to the records at the Seminole
County Animal Shelter, where she had been living when we adopted her. We are "pit bull
people," who have previously adopted others of this misunderstood breed, and we were
interested in finding another to join our family in late September 2019.
In looking at the SCAS webpages, we saw a number of pits and pit mixes, but Debbs stood out
because she had been at the shelter for nearly fourteen months. She was not attracting any
attention because she was considered "not very social" around other dogs and could not be
adopted into a household with others. Since we were then without any dogs, we agreed to adopt
Debbs as a solo dog.
According to the previous owner's surrender papers, Debbs' first owner had been incarcerated
since 2016, and she had then been taken in by that man's father, who surrendered Debbs to the
SCAS in July 2018. She had been kept outdoors 24 hours a day, so the move to an indoor shelter
might have seemed an improvement, but Debbs, who was described to us as a "timid girl," did
not do well with Florida storms that created a racket on the shelter's tin roof. Poor Debbs would
try to hide under her bed and Briana, the shelter attendant, would often go into Debbs' run to
comfort her.
When Debbs came home with us, she was a very nervous girl and took some time to become
accustomed to her new home. Initially, she followed Kathleen, her new Mommy, everywhere,
and did not warm up to Scott for several weeks. Over time, however, Debbs began to trust us,
even as she remained nervous about loud noises. She enjoyed walking once or twice a day, but
she would often turn immediately for home when she heard carpentry on a roof, a car backfire,
or similar sudden sounds. Inside the home was similar, with any loud or sudden noises and
especially thunder storms scaring Debbs, who retreated into her cage, which was her safe space.,
for hours after even one loud sound.
Despite her difficult beginnings, Debbs has grown over the past three years into a very good dog.
Now just past the age of eight, she is becoming a senior dog with a few medical issues that
TOAH continues to monitor and treat, but she is still quite active. Debbs' day often starts with a
quick visit at the back fence with a neighbor who stops by with a dog treat, followed by her
breakfast and a walk about the neighborhood. Depending upon her mood, she can cover quite a
distance or decide to return home after only a few hundred yards. The rest of the day is usually
spent not too far from her stay-at-home Mommy, who must migrate throughout the house and
backyard, according to Debbs' commands. Among Debbs' favorite daytime activities are
begging for dog treats, sitting in the backyard and barking at passing strangers, begging for
people food (at our meal times), and sleeping. In the early evening, she moves Kathleen to the
TV room, where Scott usually already is, and positions herself on the sofa between us. There she
begs for after-dinner treats and snoozes until Kathleen moves to the bedroom, where Debbs
retires to her crate for the night, and sleep until it is time to start her routine the next morning.