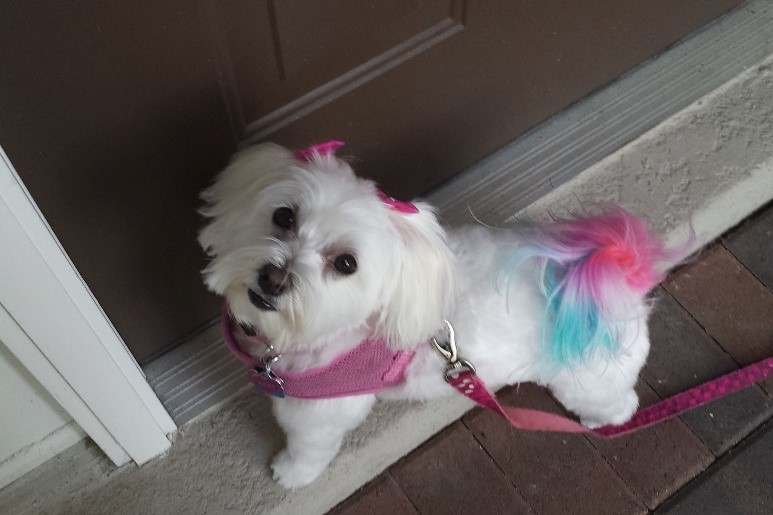 Congratulations to our May 2019 Pet of the Month, Daisy Yonchik. Read her bio below:)
"This is our baby. She is an 8-year-old, 13-pound Maltese. We call her Daisy. At TOAH, they call her "Trooper". She's one tough dog!
Daisy came into our lives in the Spring of 2011. She was a gift to my in-laws. Although she only spent a short time with them, she brought so much joy to their lives. After my mother-in-law passed, my father-in-law moved into an assisted living community and could no longer take care of Daisy. So, now she lives with us and visits her first Daddy once a week.
Daisy is the most laid back, lovable Maltese you could ever meet. Whether it's the FedEx driver, neighbors, or our contractor, Daisy has never met a stranger she didn't like. She introduces herself (and me) to any human she sees. She wags her tail furiously and pulls on her leash till the new human comes to pet her. Everyone who meets her falls in love. It happened to us, too!
One evening this February, while we were walking, she was attacked by an unleashed dog who flew so fast down the driveway none of us even saw it until it had grabbed Daisy, lifted her up and was starting to shake her back and forth. All we could see was a little white fluff of fur up in the air and yelping in the shrillest pitch I've ever heard. We had to take her to the emergency vet for surgery. Brought her to TOAH because we knew she'd get the best care there. All totaled, she had 4 surgeries, some overnight stays, and tons of antibiotics. TOAH got to know Daisy really well and with all she'd been through said she was a real . . . you guessed it . . . TROOPER."