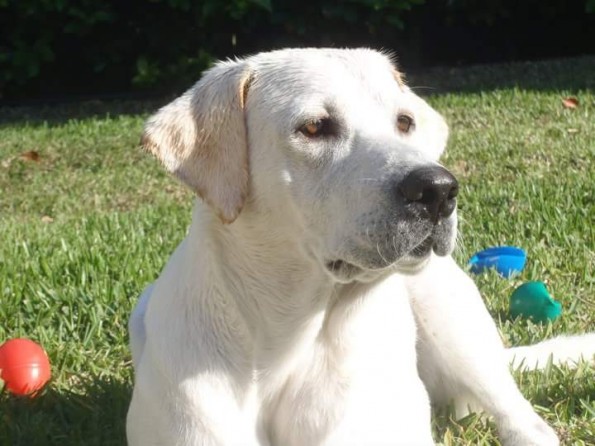 Congratulations to TOAH'S July 2017 Pet of the Month…  Moto Manfredi!
Please read his biography below:
We have had Moto since he was a puppy. He will be seven on July 2nd.
A friend of mine was breeding his Labs and knew I was looking for a Lab, so once Moto was born my daughter and I could not wait until he was big enough to come home with us. Unfortunately, it took a few extra months of convincing for my wife. So he was almost 4 months old when we finally brought him home. (Funny thing is now my wife is his favorite, so much for "Man's" Best Friend.)
Moto is a very smart Labrador and learns tricks very quickly, obviously for his favorite treats. He loves to go for walks and at 7 years old, he still trots a good 1.5 miles a day with some days getting in another 1.5 miles.
On one of his walks last week, he spotted a squirrel ripped the leash out of our hands and took off after it crossing the street in our neighborhood.
A car was coming a little faster than it should have been and it hit him. He was pushed about 20-30 feet away and he rolled a few times.
I called TOAH right away and the on-call veterinarian called me back in minutes and directed me to the Veterinary Emergency Clinic. When we arrived, amazingly he hobbled into the side door of the hospital, which surprised us because we thought he couldn't walk. They performed x-rays and bloodwork while we waited. There were no broken bones at all, however there was possibly liver and internal organ damage from the impact. The blood test revealed a range 10 times the normal numbers so they kept him overnight on fluids to flush out his liver and kept him under observation.
We picked him up from the VEC first thing in the morning and took him to TOAH so they could examine him. He was still struggling a bit with breathing so they kept him all day long to keep eye on him and to continue to keep him hydrated and flushed.
They performed another liver test at the end of the day, and to our dismay, the number went up even more, but all other vitals were looking good so they let us take him home with some liver medication.
As soon as we got home he went to his favorite spot to sleep and seemed to be much more comfortable in his own home. He did so well over the weekend.
We took him back to TOAH on Monday for another test and the numbers finally started to come down. Not quite normal yet, but going in the right direction.
A week later, he seems to be more himself. We have to take him back today for hopefully, just one final test.
We appreciate all the love and care TOAH gave him and appreciate having them as his veterinarian since he was a puppy. He is a very loving animal and he is a very important part of our family.
Ross Manfredi