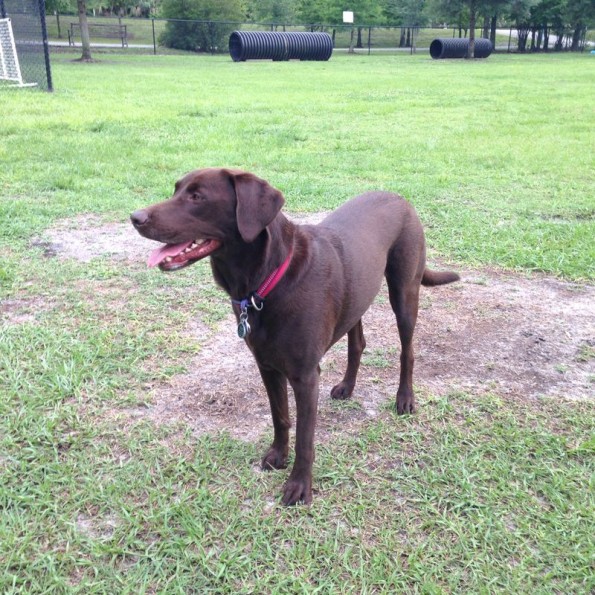 Susy is five and a half years old and a very loved. Her "paw"rents – Alejandro and Catherine – were not sure whether to have a puppy until she came along and stole their hearts.  Even since the day she got home, Susy has been the center of attention and we have been focused on providing the best care for her.
She loves being chased around the house every time we try to put her leash on to go for walks.  "The Chase" can last anywhere from 15 to 20 minutes until we can finally catch her. Once we go on the walk, Susy focuses on catching as many lizards as she can.   She also likes to play Hide and Seek. When we get home after work, instead of coming to greet us she hides and waits for us to find her.  Then she gets all excited and showers us with kisses.  Her go to toy is anything she can play tug of war with, and also has a preference for any gliding toys you can throw for her.
A professional beggar, we have been lucky that her dietary preferences include all kinds of vegetables, frozen or cooked, making it extremely easy to spoil her with food!
Overall Susy is a very good dog, but there have been a few times she has gotten into trouble.  Susy has issues with people on scooters, golf carts, roller blades and skates. One day when we were on our way to the park, Susy jumped from the car in motion in an attempt to chase a lady on roller blades. Luckily for us she only had road rash and lost a couple of nails, but we did not know it at the time and immediately rushed her to TOAH. The team was ready to assist, treat her injuries, and ensured she was ok.
There was also another instance when Susy decided to take all her joint medication pills at once and we had to rush her to the vet.  Dr. Fullenwider was waiting for Susy and saved her life. She was hospitalized, and had to be put on IV fluids to flush the medicine from her system. We were worried she may have kidney failure and not make it.  Dr. Fullenwider and her team kept us informed throughout the process, which made a huge difference in that very stressful situation. Susy also visit TOAH earlier this year to get knee ligament surgery. Her surgery went well and the Doctor recommended she do swim therapy lessons to speed up her recovery.  She is now fully recovered and back to doing "The Chase" daily.
Thank you TOAH team for always taking great care of our furry daughter!
Alejandro Manrique