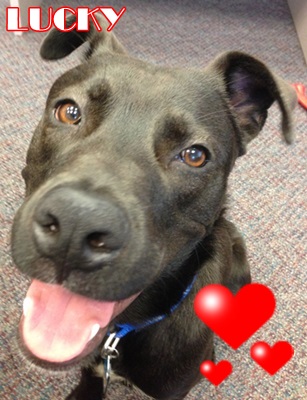 Lucky Fields
Our company is in an industrial park in south Orlando. One Monday morning when we got to work, Lucky was hanging out around our office. He had no tags, was badly cut up and was very, very thin. He seemed to hang around most of that day. We went and got some food and fed him and gave him water. We called animal control but they never showed up (I'm so glad they didn't now!!). The next day when he was still here, I brought him to you guys for you to doctor him up and make him all better! And that's his story. We took a vote in the office on what to name him and "Lucky" was the winner because he was lucky to find a good home and we are lucky to have him in our lives as well. We really enjoy him. My bosses here at work have been so gracious in keeping him and paying for his care. I'm also so thankful for you guys in bringing him back to good health. Attached is his latest picture. He is so spoiled!! He stays here in the office with us during the day and in our fenced in yard at night. Sometimes he goes home with people in the office for a night or for the weekend. His adoptive mom Corliss here in the office takes wonderful care of him. Plus he's got about 8 other adults loving on him all the time. He's playful and rowdy and just as sweet as he can be. We love him like crazy!! Thanks for making him pet of the month!!
Doctor's Corner: Dr. Blossey
When the Fields first brought Lucky to us in November of 2013 it was obvious he had not had proper care or even food in a long time. He was severely underweight, his skin and hair coat were in very poor condition, he was infested with ticks, and he had strange skin wounds all over his body. By checking a fecal specimen we found that he was infested with hookworms. Hookworms are intestinal parasites that are transmitted in the soil and in fecal matter. They attach to the intestinal wall and can cause anemia.
Lucky was treated with ActivylTickPlus to treat his tick infestation, and a dewormer for the hookworms. He was also vaccinated and neutered. The rest of his treatment was just good food and TLC from the Fields family. He gained 16 pounds in just 6 weeks and his skin and coat quality improved dramatically.
Lucky was indeed a very fortunate dog to end up in the care of the Fields family.